*2019 Memorial Shovel Winner: Windber Area High School Frank Kush*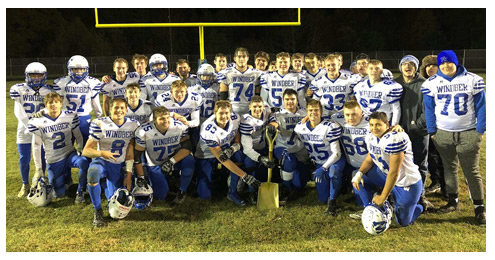 The Shovel Series is back after roughly five decades on the high school football sidelines.

Thanks to the efforts of the Eureka Coach Heritage Foundation, three area athletic directors and one generous family, the tradition will be renewed when the No. 2, square-mouthed style shovel is presented after Friday's game between undefeated Conemaugh Township and 2-2 Windber at Windber Stadium.
The revamped series will include games among WestPAC schools Conemaugh Township, Shade and Windber. The Indians can claim the golden No. 2 coal shovel outright with a win over their rival Windber because Township already beat Shade, and the Panthers defeated Windber.
"This happened back in 1955," said Matt Scislowicz, of the Eureka Coal Heritage Foundation. "It used to be played between Johnstown, which was known for the mills, Altoona, known for the trains, and Windber, known for the coal mines. They did this approximately 10 years."
Scislowicz said Altoona was the last winner of the No. 2 shovel sometime during the 1960s. Efforts to locate the original shovel were unsuccessful.
"We went looking for a No. 2 coal shovel," Scislowicz said.
"You wouldn't believe this. It was like a hunt. We were on Facebook. We were asking people if they had a No. 2 coal shovel."
The Foundation turned to the athletic directors at the three schools in hopes of locating a vintage No. 2 shovel.
Shade Athletic Director Paul Leonard mentioned the search during a board meeting. By chance, board member Brian Maldet recalled coming across just such a shovel when cleaning out a family member's home nearly a decade ago.
"Our board member was cleaning out the grandpap's house," Leonard said of the find. "He's had it in his garage for a while. I had an athletic meeting and was explaining it to him. I told him we're trying to find an old No. 2 shovel and clean it up. He said, 'I think I have one of those.' "
Maldet's wife, Jerry Lynn (Custer), had ties to the historic shovel through her great-grandfather Henry Oscar Custer, a coal miner who she said worked in Mine 37.
"My great-granddad was born in 1900, married at age 18 and went to work in the mine," Jerry Lynn Maldet said in an email.
"My granddad, Clarence "Doc" Custer followed in his father's footsteps and was also a miner who worked in the tipple.
"We do not know exactly when the shovel came to its decades old resting spot in my great-grandparents' home, but it truly has the coal heritage to back it."
Scislowicz certainly appreciated the historical significance.
"It was rusted. It was from 1922," Scislowicz said. "We were excited about that. We wanted something to go back to the past because we are a heritage organization."
The shovel has been restored to almost pristine condition, with a gold shine.
"We talked about doing this in the coal country in Windber," Scislowicz said. "Since we're a part of Berwind-White (Coal Mining Co.), we decided to use the three small schools in northern Somerset County which all had mines in their heritage."
Leonard said the three athletic directors, including Conemaugh Township's Lance McGough and Windber's Steve Slatcoff, agreed to follow a straightforward format to crown the winner in the case of a tie.
"Whoever goes 2-0 in the series gets the shovel," Leonard said. "If we're all 1-1, the last team that went 2-0 (in the series) gets it and they keep it until someone else goes 2-0."